May 13, 2002
By Lisa O'Neill Hill, the Press-Enterprise

RIVERSIDE - The brutal death of the pretty, young college student has taken on a life of its own in Riverside history. The slaying of Cheri Jo Bates -- found slashed and stabbed on Oct. 30, 1966, behind what was then Riverside City College -- has been the focus of numerous police and amateur investigations. The crime has never been solved, and theories abound. Police say they know who killed the 18-year-old woman but have never had enough evidence for an arrest. Others believe Bates may have been killed by the infamous and elusive Zodiac killer.

Last week, a group of amateur sleuths -- admittedly obsessed with the Zodiac and his victims -- were in Riverside checking out the home where Bates once lived, the campus where she died and other sites. They were accompanied by a free-lance filmmaker who has been following them for a year and who is making a documentary about them, tentatively titled "Hunting the Zodiac."

"They're very interested, and they know all the minutiae," said filmmaker John Mikulenka, 42, of San Francisco, who met the group while pitching a documentary on the Zodiac to Court TV. The ringleader of the group is Tom Voigt, 35, of Portland, Ore.. Since 1998, the Web page designer has operated a Web site that focuses on the serial killer -- www.zodiackiller.com -- and averages about 950,000 hits a month.

Voigt said he originally thought the Police Department's primary suspect was Bates' killer, but then DNA evidence came back that did not link that man to her death. "The Zodiac is as good a suspect as anybody," Voigt said. "I'm doing this because I'm truly interested in the case being solved and in whoever is responsible being caught and punished," he said. " . . . There are so many mysteries within mysteries in this case."

Mikulenka said he is fascinated by the devotion shown by Voigt and others. He decided the story was the people obsessed by the case. The appeal for the amateur sleuths? "I think it's a real need for and appreciation for mystery. It's a mental exercise too, trying to figure out the different angles, trying to bring more light to a cold case," Mikulenka said. "They're not easily thwarted."

Riverside police Homicide Detective Steve Shumway, who has spoken with retired detectives and studied police files, said evidence indicates Bates was killed by someone she knew, someone who had disabled her car. It was not the Zodiac killer, he said. The Zodiac has officially been linked to five murders and three attempted murders that occurred in Northern California in the late 1960s. He sent letters to police and the media, and in one letter, claimed he had killed 37 people. Riverside police and employees at The Daily Enterprise, the then-morning version of what is now The Press-Enterprise, also received letters from someone claiming to have killed Bates.

Police maintain Bates was killed by a man whose advances she had rebuffed. They took DNA samples from their suspect and compared the DNA to that from hair found in Bates' hand. The samples did not match, although they can not be sure the hair belonged to the killer. Police say they are now back at square one, but the case remains open. Detectives at the time worked long and hard on the case, Shumway said, and some are still haunted by it. The case still could be solved, Voigt and police agree.

"It's been 36 years now," Shumway said. "As time goes by, witnesses lose memories. (But) there are people here that know that have not come forward about our suspect. I believe that 100 percent."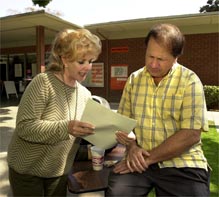 Silvia Flores/The Press-Enterprise
Researcher Sandy Betts and writer/investigator Howard Davis look over photocopies made at Riverside Community College. They are amateur sleuths investigating the death of Cheri Jo Bates, a college student fatally stabbed at the campus in 1966.