March 1, 2001
By Richard Freedman, Times-Herald staff writer

Tom Voigt makes no bones about it. The mystery of the Zodiac killer is an obsession. "I think that's pretty accurate," said Voigt, a 34-year-old Portland, Ore., resident who's become a self-proclaimed expert in researching the case that's baffled investigators for almost 35 years.

Voigt was in town this week, flown in to film segments for Court TV and Tech TV. The latter features Web sites that revolve around crimes. Voigt's already been featured on the Discovery Channel, "America's Most Wanted" and even the "Howard Stern Show." He'll also appear March 11 on The Learning Channel's "Ultimate 10" about the Top 10 highest profile unsolve cases in the nation. Zodiac is No. 1, Voigt said.

Though he was only 2 when the first Zodiac-suspected homicide occurred in Riverside in November, 1966, Voigt's always had a fascination for the case. "I grew up hearing about this," said Voigt, a Santa Monica native and son of a Los Angeles newspaperman. Not until Voigt obtained the Internet domain of www.zodiackiller.com a little more than two years ago did his own cult-like status blossom. "Initially, the Web site wasn't available. Some company in New York owned it," Voigt said. "I waited until it expired and they didn't renew it."

Voigt quickly realized the interest "has never been higher" in the serial killer believed to have murdered seven people, including three Vallejoans. The Web site, he said, receives 150,000 hits a month. "Since it's been more than 30 years, people aren't afraid to come forth with information anymore," said Voigt. Voigt figured the site would be a good place to archive Zodiac information that has been sent from all parts of the globe. "I only just started asking people to register for the message board," he said. "I had to weed out the whackos. I'm still weeding. I think they all should be locked up."

Voigt insists this is serious business, if not wholesome fun. "I have no interest in the gore end of it," he said. "You won't find anything like autopsy photos on the Web site." The site includes information about the victims, investigation information, copies of letters Zodiac sent to police, various newspaper and magazine articles.

Voigt also focuses on possible suspects, including the late Arthur Leigh Allen, a much-scrutinized felon who was questioned and released. Allen died of natural causes in 1992. He was 58. "I think it was Lee," believed Voigt. "And I think there's still evidence left at his house." Evidence has been collected and tests may or may not link Allen or another suspect to the killer.

Lt. JoAnn West of the Vallejo Police Department said she's "hopeful we'll get something back soon. A lot depends on the work load of the crime lab. If we're able to obtain DNA evidence, that certainly would be great." If the alleged killer is deceased, "that would be fine. It would close the case," West said. West said while there isn't "active investigation" in the case, "I would say there's an open investigation based on things reported recently. We are waiting for forensics."

West was a teenager in Contra Costa County when the murders occurred. "It was frightening," she said. "It was a pretty notorious case." West gave some credibility to www.zodiackiller.com, though noting "there are some errors. The problem with that is that there is a lot of hearsay information and we're not in position to correct it."

Voigt confirmed that "everyone says they know who it is. People read a newspaper or get other information that's been inaccurate," he said. "So they start linking Zodiac to everyone. They think it applies to their husband or dad or a neighbor. And nobody wants to be corrected."

Voigt said there are "a lot of interesting connections" between the Zodiac and Ted Kaczynski, a.k.a. the Unabomber, but rejects the theory they are one and the same. "I think because Kaczynski was in the Bay Area at the time, he was influenced by Zodiac," Voigt said. "But I don't think he's it." Unless the Zodiac is alive and in prison, said Voigt. "DNA could be the last chance. I think, like most people, that he's dead."

Voigt is obviously not alone in his quest for the truth, justice, and a serial killer. He was joined by fellow researcher Ed Neil of Napa at the television filming on Lake Herman Road in Benicia on Wednesday. "My focus is a little different," Neil said. "It's more on understanding theories and looking at newspaper reports." Neil said his family is "interested in what I'm doing, but I'm the only guy really fascinated by it."

While DNA may solve the case, it will also bring out even more crazies, Voigt said. "I'll start getting hair samples and bodily fluids in my post office box," he said. "People will ask, 'Can you have police test this?'"

If the case were closed today, that would be OK with Voigt. He can go back to his mild-mannered career as a Web site designer and classical guitar playing. "It's been a good experience. I've met a lot of really good people," he said.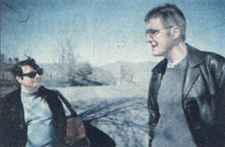 Ed Neil and Tom Voigt