Sept. 26, 2004
By J.M. BROWN, Times-Herald staff writer

LAKE BERRYESSA -- As cocktail waitress Sandy Betts drove away from Vallejo's Melody Club in the winter of 1968, a man followed closely behind in a gold car. After ditching him briefly around a turn, she found him waiting in front of her house. As she drove by slowly to get a look at him, their eyes met. It's a face she's never forgotten.

Several days later, on Dec. 20, 1968, the Zodiac serial killer shot his first known victims in Vallejo. To this day, Betts said she believes her stalker was the Zodiac, who terrorized Vallejo and the whole Bay Area more than three decades ago.

Her green eyes glistening intently, Betts told her chilling story at a gathering of other Zodiac enthusiasts Saturday at Moskowite Corners General Store and Tavern near Lake Berryessa. Organized by Zodiackiller.com, the fanatical core of theorists met to commemorate the 35th anniversary of the Zodiac's Sept. 27, 1969, stabbing attack on a couple on a remote part of the shoreline.

The group meets regularly to swap who-done-it theories about the internationally known case that has long vexed authorities in Vallejo, San Francisco and cities where unsolved slayings have been linked to a killer who taunted police with bizarre calls and coded letters to the press. San Francisco police announced earlier this year it was closing the unsolved case due to time constraints.

Tom Voigt, a San Francisco resident who founded the Zodiackiller.com Web site, said attendance among the theorists was down this year by about two-thirds because some actually feared a Zodiac attack. When a young couple was slain on the beach in Jenner last month, some suspected the Zodiac was active again and they canceled their reservations, Voigt said.

Because the killer was never found, Voigt said he understands people's fear about coming to the Lake Berryessa meeting. Serial killers do return to the sites of their crimes, he said.

"He's not here," Betts says with a stern and eerie certainty.

She shows a picture of the man she says has stalked her since she was followed in 1968. Betts said he matches the description of the Zodiac as given by Mike Mageau, who was shot by the killer in Vallejo's Blue Rock Springs Park.

Mageau and companion Darlene Ferrin where shot multiple times at the park in July 1969. Ferrin died, but Mageau survived to name Vallejo resident Arthur Leigh Allen as the suspect more than 20 years later. Allen, a teacher whom Vallejo police strongly suspected, was never charged in the case and has since died.

The Blue Rock Springs killing came seven months after the first known Zodiac attack on Lake Herman Road in Vallejo. David Faraday and Betty Lou Jensen were shot to death in a gravel parking area near a water pumping station.

The Zodiac went on to kill a woman and injure her companion at Lake Berryessa, then stab a San Francisco cab driver to death less than a month later.

Since then, Betts said her stalker has popped up at bars where she worked, left love letters at her house, harassed her children and mother even firing a shot into her home, she said. Two of her friends were attacked, one fatally, after she pointed him out.

With help from police, she tracked the man to a Lake Tahoe address and believes his initials are R.H., the letters carved into a desk at the college of suspected Zodiac stabbing victim Cheri Jo Bates in Riverside.

Asked why the Zodiac has eluded police for so long, Betts said, "He's just so damn lucky."

Ed Neil, another longtime enthusiast, now lives just blocks from where Betts resided in Napa when she was first followed. Wearing a T-shirt with Zodiac symbols on Saturday, he told how he developed a fascination with the killer after visiting the slaying sites.

"Everyone has their own theory," he said, adding that he doesn't believe Allen was the Zodiac. He said he believes the true killer has never been identified.

"He came out of nowhere and disappeared. He started and stopped," Neil said. "It doesn't fit the profile."

Neil said he bets the killer had "a regular job and got married" shortly after the crimes. "He's probably is retired now in Vallejo."

Neil and Betts both said they expect the killer will be revealed someday perhaps by someone coming across the evidence after his death.

"He's very much Jack the Ripper of the Bay Area," Neil said. "Unlike Jack the Ripper, hopefully we'll solve it."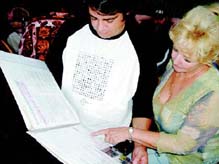 Ed Neil of Napa and Sandy Betts of Antioch look at a book full of memorabilia about the Zodiac killer. Photo: J.M. Brown/Times-Herald