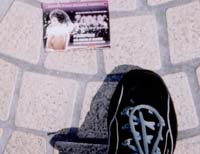 This trip started in San Francisco on a very odd note: Shortly after midnight someone falsely informed the hotel I had left. A few hours later I found this advertisement in the parking lot for an event called "Zodiac."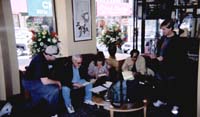 From left to right: Scott, Bill, Sandy, Mike and Roger in San Francisco studying the letters I received last winter from a person claiming to be the Zodiac.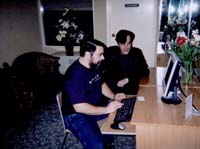 In our San Francisco hotel, Mike observes Ed updating Zodiackiller.com with our daily activities.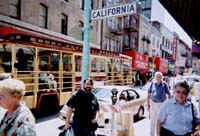 Ed's loose in Chinatown. We were all quite happy to leave San Francisco, as much of our time was spent trying to navigate the confusing Chinatown/North Beach streets.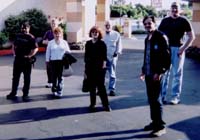 From left to right: Ed, Roger, Sandy, Lisa, Bill, Mike and Scott upon our arrival in Vallejo.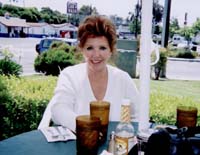 Sandy at lunch. It seemed we rarely had time to eat.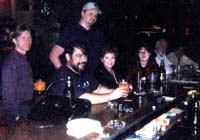 From left to right: Roger, Ed, Scott, Sandy, Lisa, Bill and Mike at Vallejo's best bar, the Valano Club.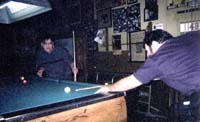 Ed attempting to beat me at pool. Although I might appear concerned, I was simply worried that Ed would pull a muscle.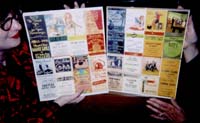 Lisa and Sandy holding the Valano Club's collection of local nightclub memorabilia. Note Terry's Waffle Shop at the top center. (Zodiac victim Darlene Ferrin worked at Terry's at the time of her murder.)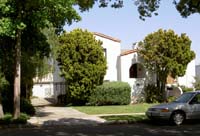 Zodiac suspect Arthur Leigh Allen's former residence at 32 Fresno Street in Vallejo. Aside from a fresh paint job, the house looks as it did in the 1960s and 1970s -- much to the chagrin of its current occupants.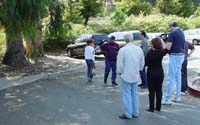 The approximate location of the Darlene Ferrin murder at Blue Rock Springs Park in Vallejo.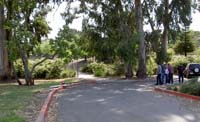 Although the park has changed considerably since 1969, we were able to determine the Ferrin murder took place near this grove of trees.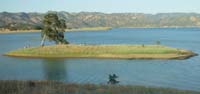 The area known as "Zodiac Island" at Lake Berryessa, scene of the Sept. 27, 1969 attack. The location is accessible on foot when the water level is lower.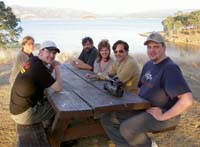 From left to right: Roger, me (Tom), Ed, Sandy, Mike and Scott at Lake Berryessa enjoying one of our many discussions about the case.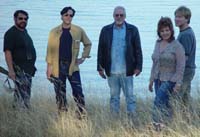 From left to right: Ed, Mike, Bill, Sandy and Roger on the shores of Lake Berryessa.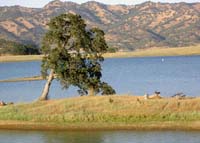 A close-up of the crime scene on "Zodiac Island."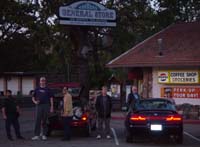 From left to right: Ed, Scott, Mike, Roger, Bill and Sandy at Moskowite Corners near Lake Berryessa. The locals who frequent this grocery store/saloon are very familiar with the Zodiac case.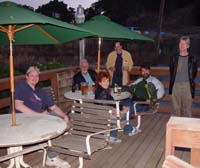 From left to right: Scott, Bill, Sandy, Mike, Ed and Roger on the back patio at Moskowite Corners.

--BONUS PIC--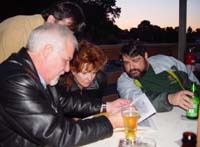 At Moskowite Corners, Bill shows Mike, Sandy and Ed nonclassified information from his possible Zodiac case of 1963.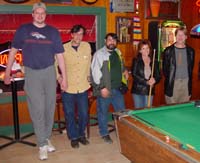 From left to right: Scott, Mike, Ed, Sandy and Roger in the saloon at Moskowite Corners. Aside from a frog living in the men's bathroom, the saloon is a fine establishment.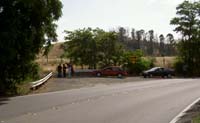 The crime scene of Zodiac's 1968 attack at Lake Herman Road in Vallejo.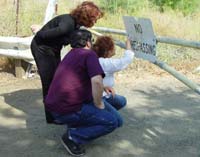 The "NO TRESPASSING" sign had several interesting things scrawled on it, including "Tom Voigt is the Zodiac."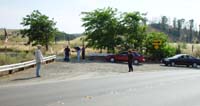 Even though 35 years have passed since the Zodiac killed David Faraday and Betty Lou Jensen, the Lake Herman area has changed very little.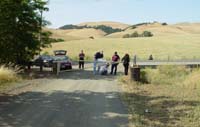 Looking toward the crime scene from the gravel road off Lake Herman Road. At the time of the killings, this road lead to a shooting range.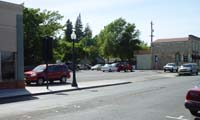 The location in downtown Napa of Zodiac's phone call to the police on Sept. 27, 1969. The phone booth is gone but the surrounding area has not changed very much.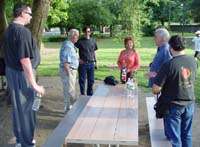 The highlight of the trip had to be our meeting with retired detective Ken Narlow. (Second from left.) Ken investigated Zodiac's Lake Berryessa attack for many years.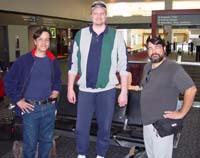 Time flies! Mike, Scott and Ed saying goodbye at the San Francisco airport. We'll do it again very soon, guys.